About Jay Houston: Founder of ASAP Plumbing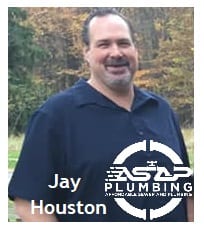 Jay Houston is pretty unique in the plumbing industry.  Jay Houston has decades of experience in many complex areas of sewer and plumbing. He worked for many years in commercial plumbing, industrial plumbing and sewer.  However, as Jay quickly discovered in the "corporate world" of industrial plumbing and sewage, hard work, self-motivation and being tremendous at your craft frequently goes unnoticed, unrecognized and can feel like a waste of time. Continuously servicing plants with top-notch plumbing, drainage and sewage services was unfulfilling.
Jay grew up in Avon, Ohio in a big family. As one of seven boys, everyone knew the Houston brothers (for better or for worse). As Jay frequently helped his brothers and the extended family out with their plumbing jobs - remodeling, installing fixtures, repairing plumbing issues, installing water heaters, sump pumps, etc., he found himself looking forward to helping solve residential plumbing issues while dreading the routine of industrial plumbing and sewage.  Jay Houston went into business for himself when he founded ASAP Plumbing - Affordable Sewer and Plumbing.
He quickly established a reputation as the good-guy plumber. The one that could fix anything and wanted to keep it as affordable as possible for the customer. Jay loves working on complex plumbing issues and although he is the master of back-up sump pump installations and tankless water heater installations, he can't help himself but to take on bigger challenges. He recently set up a custom-designed, high-end pool filtration system and has customized water filtration, boiler and tankless water heater set-ups that are picture-perfect. If there were a plumbing competition, we're pretty sure Jay would win!
ASAP Plumbing Managed by Houston Management
Although Jay is by far the best plumber, he'll be the first to tell you that administrative tasks, hiring, firing and motivating good technicians, and making adequate profit to market and grow the business are not his strong suit. Like many small business owners, those tasks are substantial sources of stress, keep business owners awake at night and imprisoned by their own business - not feeling the freedom to take a vacation or a weekend off. Jay even has a reputation for ignoring "doctor's orders" and working on a broken foot, after surgery and many other times he was ordered to rest.
Jay was ecstatic when his brother Todd, owner of Houston Management, approached him with an offer to run ASAP Plumbing, taking over all the tasks Jay doesn't enjoy, while letting him free to be the amazing plumber he is. As of 2020 ASAP Plumbing is managed and operated under Houston Management and Jay Houston remains the lead, Master Plumber - but he can take a vacation!