From tankless, or on-demand, water heaters to the more conventional storage tank water heaters, the plumbing experts at ASAP Plumbing repair, replace and install your water heaters.  Our plumbers and expert technicians are experienced in repairing and replacing all types of water heaters and can advise on the pros and cons while we help you choose the best water heater for your homes needs and budget.
New Storage Tank Water Heaters: Repairs and Replacements
Most homes in our area have the common storage tank water heater which we frequently service, repair and replace with new storage tank water heaters. If you live in Greater Cleveland or Lorain you're 95% likely to have a storage tank water heater.  Due to its popularity in the past and lower initial price point, storage tank water heaters are the best choice for many home owners. At ASAP Plumbing we have decades of experience repairing storage tank water heaters and replacing them with new storage tank water heaters when repairing it doesn't make sense anymore.
New Tankless Water Heaters, or On-Demand Water Heaters
Another option, increasing in popularity over the past decade, is a tankless water heater. Also called an on-demand water heaters, a tankless water heater heats the water as it runs through a heat exchange, delivering it directly to faucets or showers without the need for storage. The conventional storage tank water heaters have an insulated tank that heats 30 to 50 gallons of water and holds it until it's needed.
We
Install
Your
Storage
Tank
or
Tankless
Water
Heater
to Perfection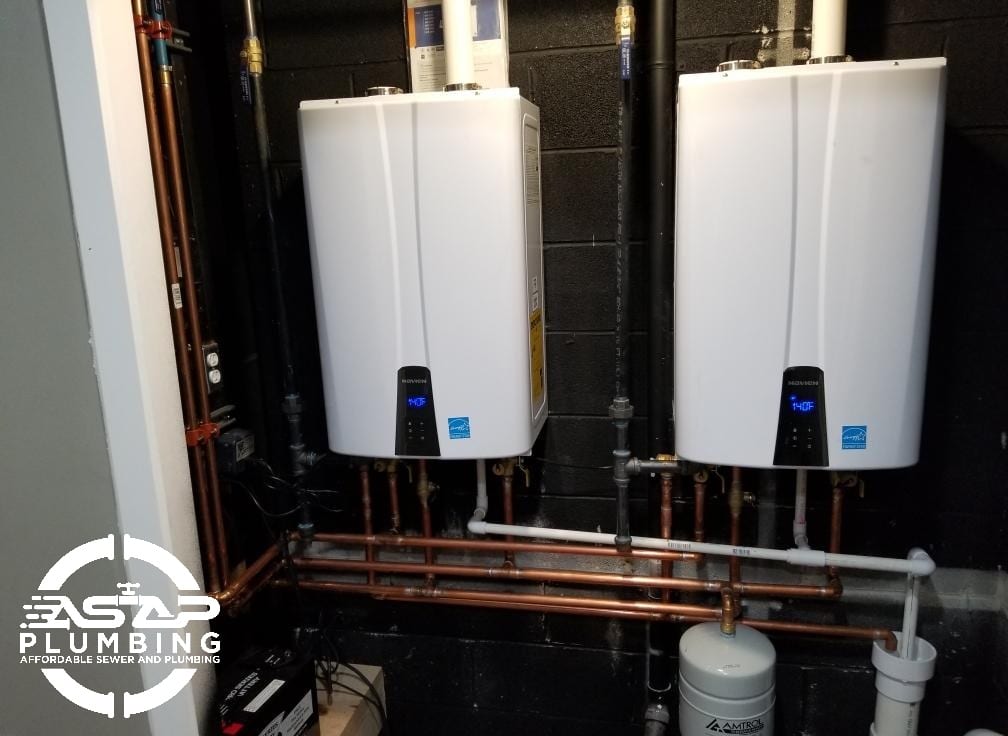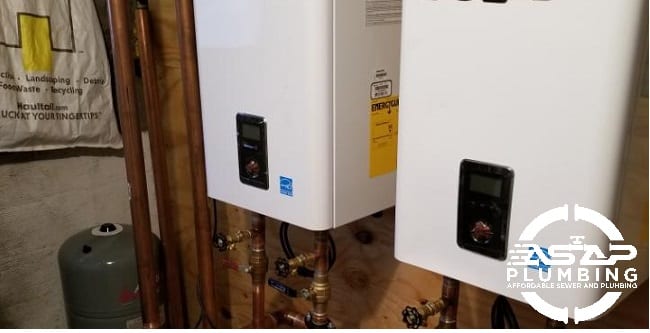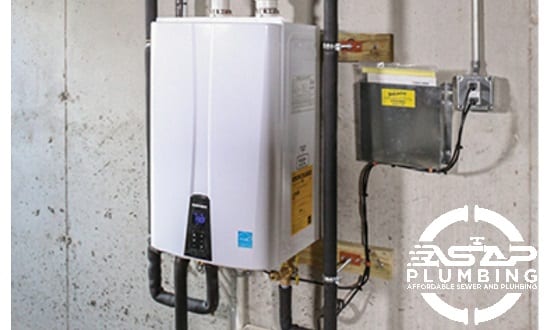 Not all plumbers are experienced with hot water heaters and have the knowledge and equipment that ASAP Plumbing of Greater Cleveland brings to the table. We have installed countless tankless water heaters, tankless boilers and conventional water heaters.
New Water Heaters
ASAP Plumbing deals with the highest quality water heating equipment manufacturers ideal for home owners with budgets of all-sizes. If price is the biggest concern, we can get you a quality water heater at a very reasonable price - much better than the lower quality of large retailers. We buy direct from the manufacturer and pass on our savings to you. If quality is a bigger concern, with our manufacturer connections we have access to some of the highest quality new water heaters, tankless water heaters and boilers available.
Get the best quality for your budget when you call ASAP Plumbing for your water heater.
440-984-4357
Tank Water Heater vs. Tankless Water Heater
If you're building a new home or replacing an existing water heater you will have to decide which water heater system is best for your home and your budget: storage tank water heater or tankless water heater. At ASAP Plumbing we'll guide you through the process and get you the right water heater for your household needs and budget - from purchasing the water heater to installation and maintenance, you can rely on ASAP Plumbing.
Pros and Cons of a Storage Tank Water Heater:
Storage tank water heaters are less expensive and require less maintenance but they don't last as long and typically costs more in utility bills - plus they take up more space.  The storage tank water heaters also provide just enough hot water for about three 15 minute showers. If you're flipping a house, have a limited budget or don't plan on living at the home long, than the conventional storage tank water heater may be your best choice.
Pros and Cons of a Tankless Water Heater:
Whereas the on-demand tankless water heaters costs more initially they take up less space, give you hot water on-demand, last much longer and are more energy efficient in that they are not heating water that isn't being used - saving you money in utility bills over time.  If you hate running out of hot water, or you'll be in the home for over 10 years, or you don't want to devote space to the tank - tankless water heater could be worth the initial investment.