Affordable, High Quality Plumbing in Greater Cleveland and Lorain
With ASAP Plumbing you will experience a dedicated, professional, and affordable plumber. Our best source of business is word of mouth from satisfied customers who have experience our high quality and affordable cost services. Let ASAP Plumbing be your go-to plumber for all of your plumbing problems and needs.
Why Should I Trust ASAP Affordable Sewer and Plumbing With My Plumbing?
ASAP Plumbing was founded by Jay Houston, Master Plumber and experienced in commercial and industrial plumbing for over a decade before he decided residential plumbing was more rewarding. Jay has a passion for helping home owners, finding the most affordable solution and protecting home owners from the ill advice and shady workmanship that can plague the industry.  He founded ASAP Plumbing to offer affordable plumbing and sewer solutions to the regular home owner.  Jay works closely with all ASAP Plumbing technicians to ensure the finished product is the best and the process was efficient and effective. He has always said "do it right the first time and you save money by not getting called-back to fix it."
ASAP Affordable Sewer and Plumbing has been in the industry for over 30 years, working on a variety of unique plumbing problems and issues, from older century homes to new construction in the Cleveland and surrounding suburbs. We also have extensive experience and are certified for commercial and industrial projects. Our team is professionally licensed to help you with all your plumbing and sewer needs for your home or business. We're licensed, bonded and insured, credentialed and stand behind our work.
Jay Houston, Founder of ASAP Plumbing
ASAP Plumbing, officially named A.S.A.P. Affordable Sewer & Plumbing LLC, with previous DBA Affordable Plumbing and Sewer, has been known by a few name variations and addresses. We have always served the greater Lorain and Cleveland areas in our customers' homes which gave Jay the opportunity to run the business out of his home office and various industrial complexes over the years. Unfortunately, Google, Yelp, the BBB and other directories like to add listings for the business each time we use a new address for banking or business equipment. This can make it confusing for repeat customers to make sure they're working with the right plumbing company. While we work hard to update all these listings, if you have worked with ASAP Plumbing, Affordable Plumbing and Sewer or Affordable Sewer and Plumbing, it was likely us - just call the Avon Lake office at (440) 984-4357 and we can help locate any old records, answer questions or solve your current plumbing and sewer need.
ASAP Plumbing Now in Avon Lake, OH
Affordable Sewer and Plumbing is happy to announce a recent expansion. The operations are all run by Houston Management in Avon Lake, bringing on-board an Operations Manager and Office Manager to keep all our plumbing jobs streamlined while taking the administrative work off the shoulders of the Master Plumber and founder of ASAP Plumbing, Jay Houston.
Lorain, Ohio
730 North Ridge Rd E
Lorain, OH 44055
N. Ridgeville, Ohio
7585 Race Rd Unit A
N. Ridgeville,  OH 44039
Amherst, Ohio
45181 Middle Ridge Rd.
Amherst, OH 44001
Lorain, Ohio
1618 W 43rd St
Lorain, OH 44053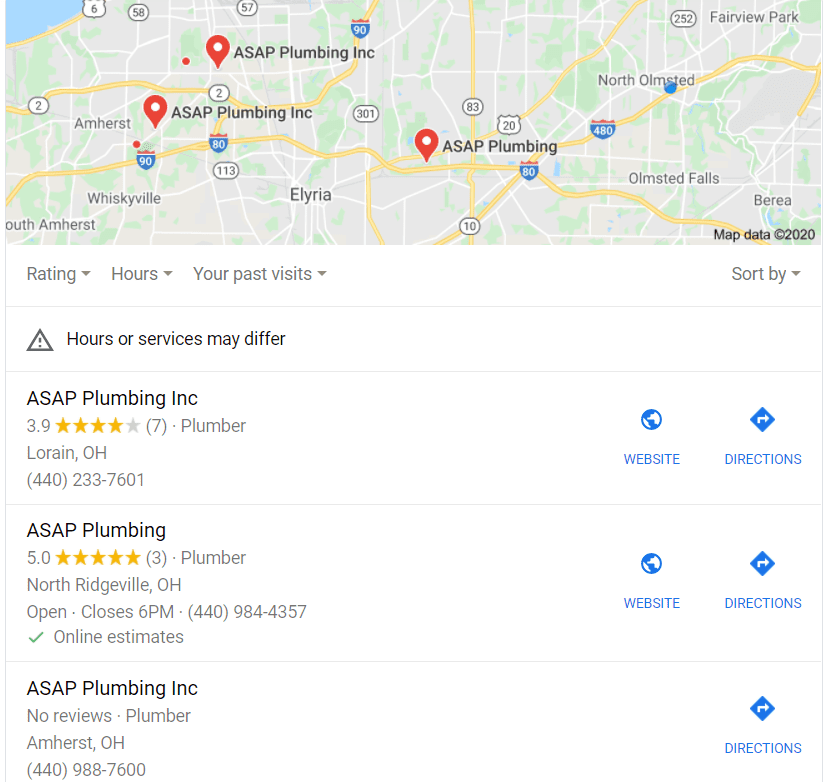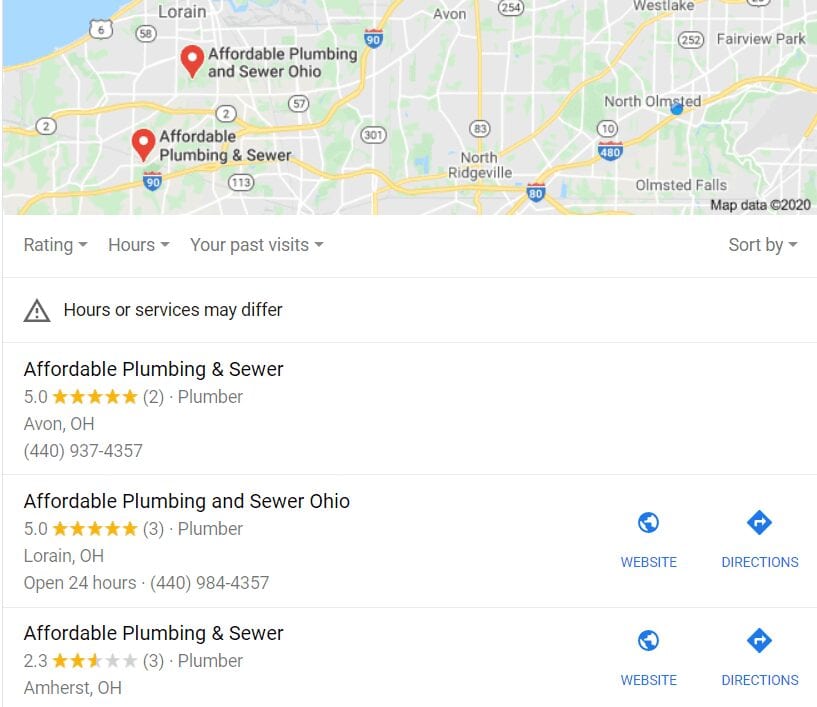 ASAP Plumbing vs. Other Plumbing Contractors
When you're looking for a plumber you should get multiple quotes. We encourage you to compare us to the competition and are confident that checking out the other plumbing contractors will help you choose ASAP Plumbing. When working with ASAP Plumbing you'll get a fair price and have no hidden fees. We know the last thing you want is another surprise. Let us help you take the guess work out of your plumbing problems and give you peace of mind. Servicing the entire greater Cleveland metropolitan area from our Avon Lake headquarters. Our crew of licensed and trained technicians are ready to solve your plumbing problems and give you peace of mind. High quality and affordable plumbing and sewer work are hallmarks of our service promise. We eliminate call-backs by making sure we get it right the first time!
Contact ASAP Plumbing for a free quote on any of your plumbing and sewer needs. Call (440) 670-1330 or fill out our contact us form to initiate your free quote.