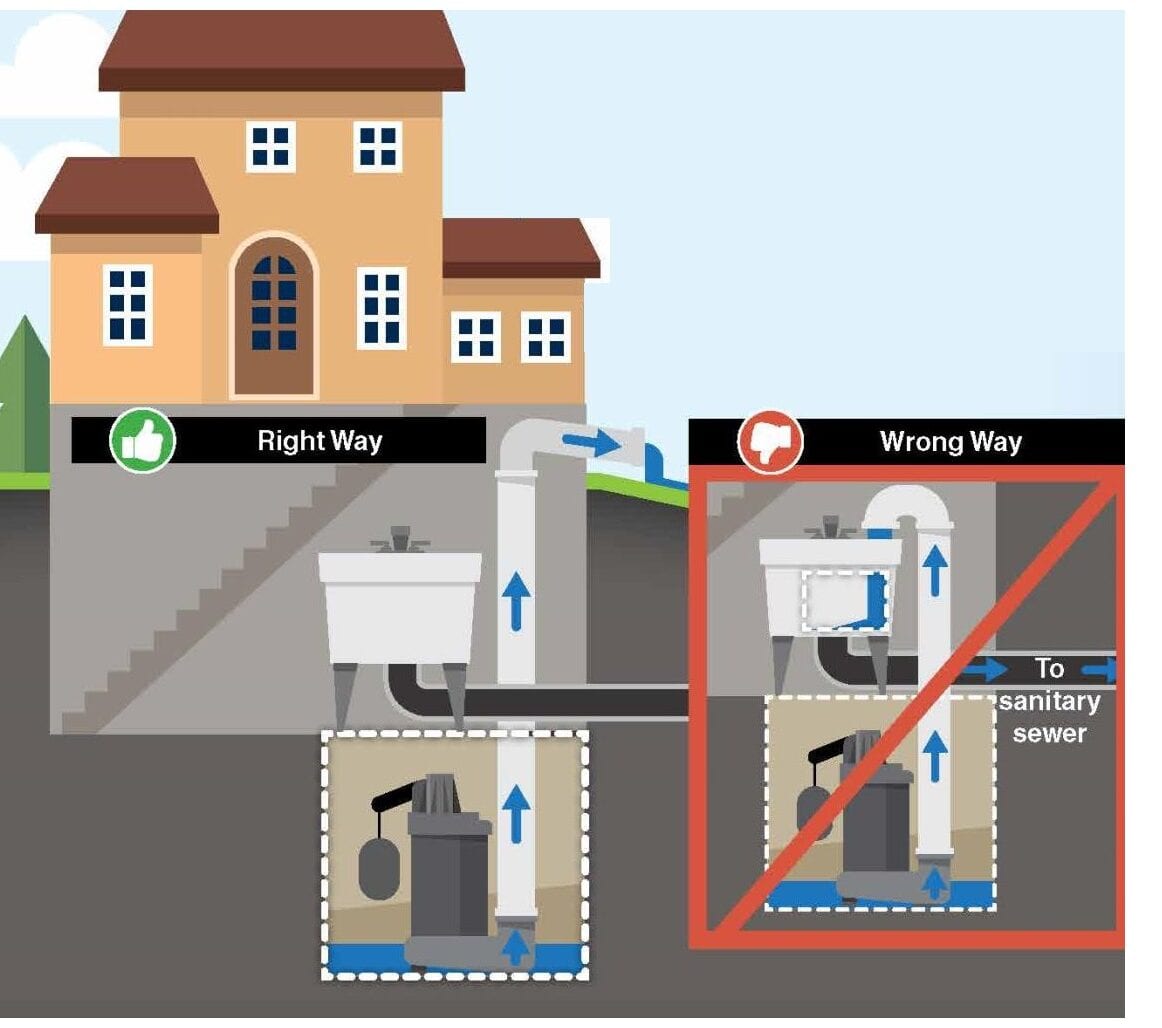 With rainy season just around the corner, it's important for homeowners to take preventative measures and ensure their home is protected from any potential flooding or water damage. A typical homeowners insurance policy covers you for $10,000 of sewer back-up, and if you have a finished basement, that barely covers the cost to tear out wet carpet, padding and drywall!
One of the most essential tools to have in your home to keep those basements dry during rainy season is a sump pump. However, without proper maintenance and preparation, sump pumps may not function properly when they are needed most. At ASAP Plumbing, we have seen firsthand the damage that can be caused by failing sump pumps, and in this blog post, we will provide homeowners with tips to prepare their sump pump for the upcoming rainy season.
1. Test your sump pump
Before the rainy season hits, it is important to test your sump pump to ensure that it is functioning as it should. Fill up the sump pit with water and ensure that the pump automatically turns on and properly drains the water away from your home. Any unusual noises, leaks, or signs of blockages should be addressed by a professional to ensure your sump pump is ready for the rainy season.
2. Clean debris and check valves
Sump pumps are prone to collect debris like dirt, sand, and small stones, which can impede the flow of water through the pump. Regularly cleaning out any debris from the sump pit and checking the valves in the discharge line can ensure that water continues to flow smoothly out of the pit, and prevent any backups or blockages that could cause flooding inside your home.
3. Install a battery backup
Most home owners don't think about the fact that in big storms we loose power and a standard sump pump relies on power to operate! In the event of a power outage, a sump pump that is connected solely to your home's electricity will fail to operate, and your basement or crawl space will be at risk of flooding. To protect your home during power outages, consider installing a battery backup system. A battery backup will continue to operate the sump pump even when the power goes out, ensuring that your home stays dry even during the worst storms.
4. Check the float switch
The float switch in your sump pump is responsible for triggering the pump to turn on and off as the water level in your sump pit rises and falls. This is a critical component of your sump pump system and should be checked regularly for proper operation. If the float switch fails, your sump pump may not operate during rainy season, which could cause water damage inside your home.
5. Schedule professional maintenance
The best way to ensure that your sump pump is functioning properly for the upcoming rainy season is to schedule professional maintenance from ASAP Plumbing, a licensed plumber. As professional plumbers we have the proper tools and expertise to thoroughly inspect your sump pump system and address any potential issues before they become severe problems.
Call ASAP to Repair or Replace Your Sump Pump
Preparing your sump pump for the rainy season is an important part of protecting your home from water damage. By following these tips, you can ensure that your sump pump is ready for anything that the upcoming rainy season may bring. Remember to test your sump pump, clean debris and check valves, install a battery backup, check the float switch, and schedule professional maintenance. With these measures in place, you can have the confidence that even during the heaviest of storms, your home will remain safe and dry.
Keeping your Home Dry: Tips to Prepare Your Sump Pump for Rainy Season